Construction Cleaning in Vicksburg, MI
When your jobsite needs a thorough cleanup, trust Parker's Subcontracting Services to deliver essential services to you. From power washing to general cleaning, we'll get your equipment, site and other assets looking pristine again. Contact us for a cleaning quote for your next project and we'll be happy to learn more about your needs and expectations.
Parker's Subcontracting Services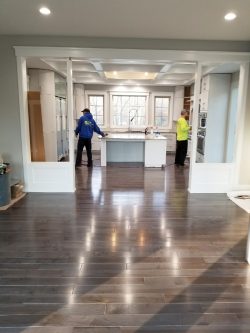 Construction, remodeling and demolition are messy—there's no getting around it. That doesn't mean your assets, equipment and worksite have to be consistently filthy, however. When the job is done and the messiness has passed, contact Parker's Subcontracting Services for construction cleaning in Vicksburg, MI. We'll get to work restoring the integrity of your jobsite and everything on it, so you can focus on extricating yourself from the jobsite and getting ready for the next undertaking. From power washing, to detailing, to scrapping and beyond, our crews are ready to deliver essential cleaning and cleanup services.
Our team is well-versed in the cleanup needs of just about any project, residential or commercial. Give us a call for major construction cleanup in Vicksburg, MI and watch as we restore everything to a like-new condition, as if by magic! Or, get ahold of us for your smaller residential project, to make sure the final cleanup leaves your property in perfect condition. We work diligently to provide best-in-class results, and we treat every job with the utmost respect.
Why our clients keep coming back to us for their cleanup needs…
Though we specialize in construction site cleaning, we also provide several other cleaning and cleanup services as well.
Our crews have more than 25 years of construction cleanup and scrapping experience, with the ability to tackle even the largest commercial jobs.
We're fully licensed and insured, to provide our customers with complete peace of mind throughout the duration of the job.
Our crew works to understand the scope of work and expectations upfront, so we can deliver results that meet your expectations to the fullest.
Our cleanup services extend to residential and commercial clients, spanning projects of all sizes and types.
Leave the Jobsite Spotless

For construction cleaning services that leave your site pristine, contact us today. From demolition jobs to scrapping after a remodeling job, we handle jobs of all sizes and types.

Vicksburg, MI
Kalamazoo, MI
Portage, MI
Shipshewana, MI
Battle Creek, MI
ElkHart, MI
Angola, MI

Hastings, MI
Hillsdale, MI
Three Rivers, MI
Goshen, MI
South Haven, MI
Grand Rapids, MI