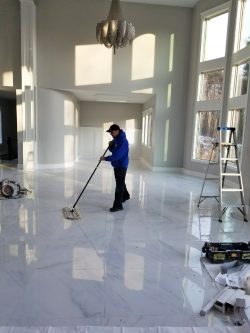 No job is finished until the cleanup stage has been completed. This means paying close attention to everything that needs to be cleaned—from assets and machinery, to buildings, debris and beyond. Parker's Subcontracting Services takes pride in offering customers a comprehensive breadth of construction cleaning services in Vicksburg, MI, so you can leave your worksite in pristine condition. We're licensed and insured, giving us the ability to tackle any scope of work.
Construction Cleaning
Whether you're wrapping on a large-scale commercial construction venture or just finishing a quick residential construction project, the finishing touches need to be put on in the form of site cleanup. Our team brings a superior attention to detail to every construction site, to ensure all factors are accounted for. This includes power washing, debris removal, detailing and cleaning for heavy equipment and buildings. We don't leave until everything sparkles—including the site itself!
Service Capabilities
More than just post construction cleaning services in Vicksburg, MI, we also have the capabilities to provide an extensive range of additional services to our customers. These abilities include:
Power washing services:
Strip away dirt and grime in an instant, and restore the like-new appeal of machinery, buildings, paved surfaces and other afflicted surfaces.
Demolition services:
Need a building safely torn down? Our demolition services ensure your land is ready for redevelopment quickly, with no setbacks in schedule.
Demolition clean up:
More than just tearing a building down, we'll make sure any and all debris are also removed from the site. We leave you with a clean site, every time.
Construction scrapping:
Got leftover scraps and debris from a recent construction or renovation project? Let our team haul them away for safe, proper disposal.
Deck painting and staining:
Decks are subject to intense weathering. We'll refresh and restore your deck with painting and staining services.
To see the high level of pride and effort our crews put into all of the work they do, contact Parker's Subcontracting Services today for construction site cleanup or any of the other services we offer. Call us today at (269) 649-4208.